Production of prefabricated houses
Prefabricated houses are not a new concept, these houses have been built for decades
and they are an efficient way to create and transport housing. Previously, however, the majority
of prefabricated houses were boxy and standardized – although they were a great
practical option, they left very few creative opportunities to the owners.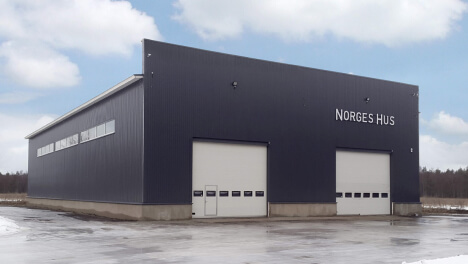 Norges Hus Nova OÜ saw the potential of prefabricated homes, and strived
to develop a solution that offered homeowners as much creative control as they would
get if designing a non-prefabricated home. With a dedicated team of architects and
designers, we are able to work with our clients and bring their ideas to life,
helping them to create their perfect homes.
Technical details of production
All of the houses we develop are designed and manufactured according
to legal standards in European Union. They are also designed to withstand tough
weather conditions, for longevity and safety. Our materials are sourced from reputable
suppliers which enables us to use only high-quality timber for our houses.
Because of the quality of our materials and the capabilities of our expert team
of designers, architects and builders, we can create prefabricated
buildings that are up to 3 stories high.






We have different types of walls. For cold as well as warm climate,
there are high sun protection sheets/layers to protect against the sun.
It is important to us that our houses are warm and dry, and keep all occupants
warm. All of our external walls and roofs are protected and reduce warmth
dissipation and retain heat energy as much as possible. Even in harsh wind, rain
or snow, the house will remain warm and cozy. Our walls and roofs offer great
insulation, with standard U values of 0,13 W/m²K for the roof
and 0,11 W/m²K – 0,10 W/m²K for the walls, depending on the finish.






Skills, experience, quality – prefabricated timber-frame houses directly
from the manufacturer.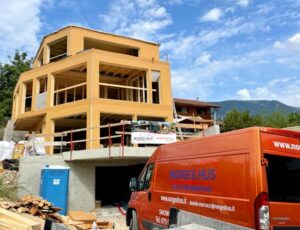 All of our prefabricated homes are designed and built in our production facilities
in North Estonia, approximately 20 kilometers from Tallinn. The skilled and
experienced production team prepares elements for each house with extra
care and commitment, providing high quality and utmost customer satisfaction.
This helps to facilitate effective and efficient communication, speeding up
the development process and ensuring that the client's vision is the focal point
at all stages of creation. The team works closely across the lifecycle of a house,
from design to production, to create homes that are functional and durable,
as well as meet the aesthetic preferences of our clients.
Prefabricated homes are gaining popularity as more and more people see the
benefits of building a home in controlled conditions. All of our prefabricated wall
elements are created in our warehouse, which means there are no delays due
to weather. There is also no risk of the house framing or other key structural
elements being exposed to harsh conditions until the home is fully
complete and these elements are sealed.
This also helps to maintain a quicker turnaround time, which is perfect for people
who need their homes swiftly. For most people, the faster they can move into
their new home, the better. Creating a prefabricated home on site facilitates
swift and efficient communication between builders, project managers,
architects – everyone involved in the creation of a home – to develop
solutions to any potential issues that arise.
Because prefabricated homes are built in a designated warehouse, it means
that your land is not interfered with until it is time to be delivered. There is no need
to worry about mass amounts of building materials, or heavy machinery creating
damage to your garden. It reduces the disruption for you and your
family, but also your neighbors.
Learn More about NorgesHus Prefabricated Houses
If you would like to learn more about the development process of a prefabricated
house created by Norges Hus Nova OÜ, fill out our contact form. A member of
our friendly and knowledgeable team will reach out to you to answer your
questions or set up a meeting for further discussion.